Once you've spent any amount of time in the woods, you'll probably discover that you need some kind of protection from the elements.  Or as Mick Jagger once sang "If I don't get some shelter …Oh yeah, I'm gonna fade away" .   Well hopefully and despite the recent hot weather, it won't come to that, but making a comfortable area where you can rest, brew a cup of tea and make a simple meal will probably be quite a high priority for you.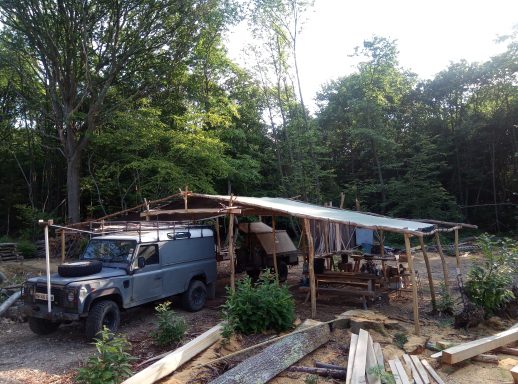 We have looked at sheds before and their role in providing  shelter and a safe place to store tools for forestry purposes.  This is not an article about sheds or more permanent structures which may or may not need permission of some kind from the planners, for more detailed information on this, see our leaflet:
https://www.woodlands.co.uk/owning-a-wood/sheds-leaflet.pdf
This article is intended as a guide to putting up a simple tarpaulin type shelter, using one I built earlier this spring as an example.  It will be temporary, but may last a few seasons depending on what kind of wood you have available and the skills and techniques you are able to muster.