Aug

13

New deer management guidance
Deer are one of the biggest threats to woodland management – where their population density is too high, they over-graze the land and damage trees and rare plants as well as the habitats of other mammals, birds and insects.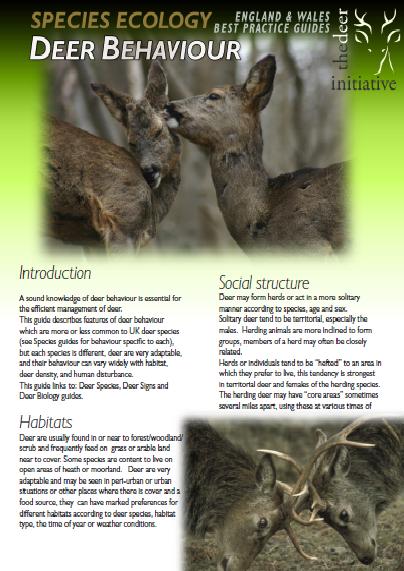 A new guide published by the Deer Initiative has brought together the knowledge and experience gained over many years by the various organisations involved in deer management, including Forestry Commission Wales.
Aimed at landowners and deer managers, the guidance is based on best current knowledge and practices and covers all aspects of deer management from impact assessment to game meat hygiene.
The guidance is a source of technical information for those who deal with and give advice on deer management matters as well as an aide-memoire and reference tool for deer management practitioners.
Director of Forestry Commission Wales Trefor Owen said, "Forestry Commission Wales welcomes the publication of the Deer Initiative's Best Practice Guide.
"As a core supporter of the Deer Initiative, we played a key part in developing this new guidance and we are delighted with the end result.
"The Guide sets out best practice techniques and information across the spectrum of wild deer management and is a practical reference tool for landowners in Wales."
Forestry Commissioner for Wales Judith Webb is the Chair of the Best Practice Working Group comprising key partner organisations in the land and deer management sectors that produced the new Guidance.
Peter Watson, Director of the Deer Initiative Partnership, said, "This comprehensive and practical new guidance for landowners and deer managers has come about thanks to the support of our partner organisations and I'd like to congratulate Judith Webb and the rest of the Best Practice Working Group for their work on it.
"The challenge now is to ensure that Best Practice becomes common practice and we are confident that the Deer Best Practice Guide will become the industry standard for deer management."
The Deer Best Practice Guide has been produced in hard copy and online. A hard copy is available from the British Deer Society, The Walled Garden, Burgate Manor, Fordingbridge, Hampshire, SP6 1EF for £25. The online version is available to all, free of charge, and will be updated as changes in legislation and regulation occur.
The Deer Initiative is a broad public and private sector partnership dedicated to ensuring sustainable and healthy populations of wild deer in England and Wales. Its core funding comes from the Defra family, Forestry Commission Wales and the Countryside Council for Wales.
For more information on the Deer Initiative please visit: www.thedeerinitiative.co.uk
For more information on the Deer Initiative's Best Practice Guidance please visit: http://www.thedeerinitiative.co.uk/html/bestpractice.htm