Jun

28

Working in the Woods – The Ultimate Therapy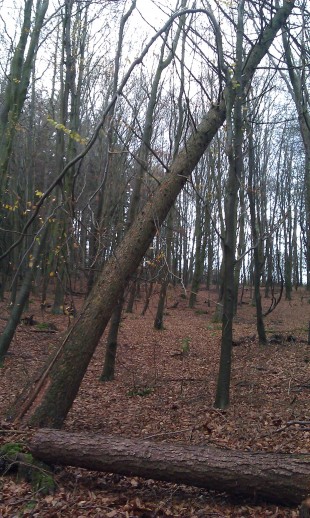 When my mother died just before Christmas, it was a bit of a shock.  I suppose it should not have been unexpected, she was 80 and in poor health, but all the same when she succumbed to a stroke in just a matter of hours, the whole family was left with a numbness and disbelief that anyone who has experienced the sudden loss of a loved one would easily recognise.
People deal with grief in different ways.   I found that keeping busy was the best way for me to cope.  This is just as well as there is a lot to do!  Forms and paperwork have to be dealt with, friends and relatives need informing and of course there is the funeral to arrange.  If it was a shock to lose my mother so suddenly, then the cost of all these arrangements was equally so.  There is little you can do about most of these expenses, but with the cheapest coffin costing over £500, I was certain that I could make one from the woods for little more than my time, and I'm sure that my mother, who had always abhorred wasting money unnecessarily, would have appreciated this sentiment.
I had in mind an old larch tree which needed taking down, it was part of a nurse crop for a stand of beech planted in the sixties, but this one had been blown over in a storm and was leaning against another tree quite precariously.
I use a logosol timberjig and a homemade log ladder which is relatively easy to move around.  I have previously written a review of the set up on the forum  It has its shortcomings, but it actually proved ideal for this kind of one off project.
Sometimes if a tree has been under the tension or compression of a hang-up, it will split or shake when it hits the ground, but this one stayed together nicely.  I saved the quarter-sawn boards for the main lengths as I figured these would have less chance of splitting or moving, however the weather was cool and damp so all the components stayed together pretty well.
I wanted a simple natural looking construction, so I didn't try any fancy mitred joints or anything, I just overshot the corner joints, left the bark on the waney  edge of the lid and base then put on some simple rope handles.
I was pleased with how it turned out and I'm sure Mum would have been too.   It had taken me a couple of days and cost me a pocket full of change for the fixings and the rope.   More importantly though it concentrated my mind and gave me a purpose during what for anyone is a difficult time.  Proof yet again that working in a wood and with wood is such a great therapy, one that seems to be innate and in this case for me it was the 'ultimate' therapy.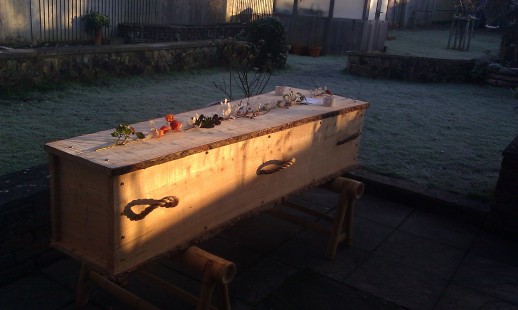 Links:
http://www.forestry.gov.uk/newsrele.nsf/WebPressReleases/26771FC5EEA808588025793C0057F243
http://www.woodlandtrust.org.uk/en/campaigning/woodwatch/woodwatchers/Pages/mymorningwalk9.aspx#.UcqPx5zNkiY
Information about natural burials in your own woodland:
http://www.woodlands.co.uk/blog/practical-guides/green-burial-can-i-be-buried-in-my-woodland/