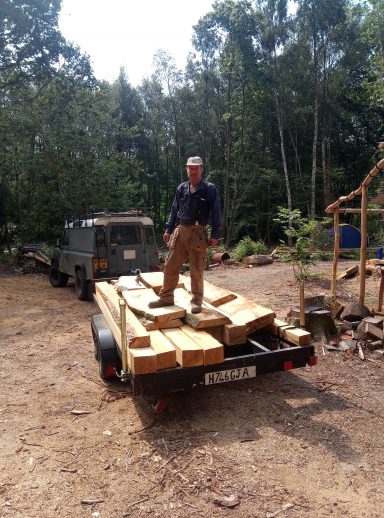 It's been a long and challenging year in the life of this project.  We have been transforming 20 or so standing woodland oak trees, about 100 years old to a standing oak framed barn which hopefully will last for many more years than that.   My colleague, Dan and myself  made a start on milling the timbers two winters ago.  Using his motto of 'just keep chipping away at it',eventually, after a freezing beast from the east and a long hot summer we managed to erect the skeleton of a frame towards the end of January.
To recap:  I am thinning  a crowded almost full canopy of oak from two of the  coppiced woodlands I manage  about 10 miles from the site of the new 'Old' Barn in the High Weald Area of Outstanding National Beauty.  (See Building a new 'Old Barn' part I).
I have had two expert framers with me Richard Thomlinson  of Thomlinsons Oakframed Buildings and Becca Tan, both have been instrumental in getting the building to this stage.  They have also had to endure freezing temperatures, blowing gales and one of the hottest summers on record.