Jan

30

Culverts – keeping them clear

For many of us, the first time we encounter a culvert is when we fall in the ditch around it, and notice the pipe before clambering out. Culverts and woodland drainage are probably low down on most owners' to-do list, but they are vital to both the health of a woodland environment and to the integrity of a woodland track.
Most owners will experience the misery of a boggy track at some point, possibly in the fading light of a dank winter's day when a vehicle becomes irretrievably stuck. The benefits of a well-maintained culvert mean that this scenario is less likely – or at least it might occur less frequently. It is essential to keep them clear to ensure adequate drainage. One of the essential aspects of keeping access tracks in good condition in woodlands is drainage and a key method to improve drainage is to have ditches and culvert pipes, where necessary.
When Woodlands.co.uk prepares a whole woodland area, the agent ensures that ditches and culverts are installed where needed. Ditches and culverts often block up during the leaf fall in autumn, and at other times of the year, heavy rainfall can cause blockages of silt and other debris.
Clearing culverts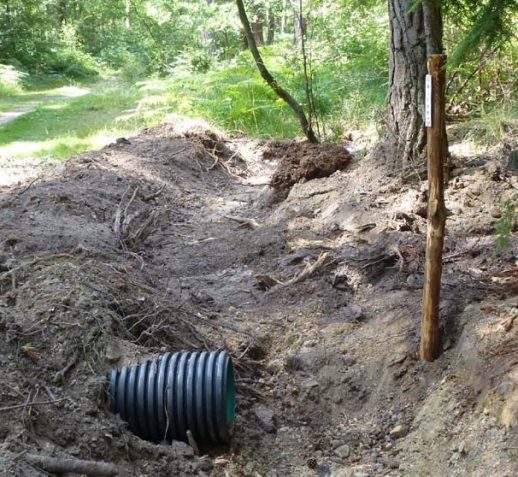 There is usually a sump at the entrance to catch any debris, and this needs to be cleared out at least twice a year. A long chestnut/hazel (or similar) pole of 8-10 cm in diameter is the ideal tool to poke in and clear the culvert of debris. Woodlands.co.uk is now marking culverts in new woods with a sign and owners who purchased their woods from Woodlands.co.uk can request them from Simon Feltham. The sign (21 cm high x 5 cm wide) can be easily screwed onto a post at least 1 meter high and minimum 8 cm diameter. (Chestnut or oak or similar rot-resistant wood is best). The post should be put in firmly at the entry end of the culvert, just by the ditch, so it does not block flow. It also needs to be visible from the track.
Owners who bought their woods from Woodlands.co.uk can request a free sign(s) by emailing [email protected].