Dec

04

December 2015 Newsletter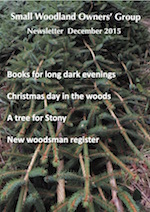 Wafted in on an unseasonably warm breeze, amid cries of 'I don't know where the year's gone', the December SWOG newsletter is a seasonal offering of peace and contemplation.
There is news of the 2016 RFS Excellence in Woodland Award, a new registration scheme initiated by the Surrey & Sussex Coppice Group to put owners in touch with woodland contractors and new forums for groups of owners on the SWOG forum. We have reviews of two excellent books, Lars Mytting's Norwegian Wood and The Man who made things out of Trees by Rob Penn, as well as simple recipe for a simple Christmas day in the woods.
We hope you enjoy it!