Jul

01

July 2016 Newsletter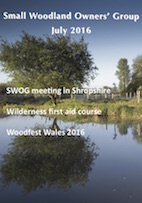 Sign up for the SWOG meeting in Shropshire
Small woodland owners have a vital role as custodian of the nation's woodland heritage. The Sylva Foundation wants to capture the hopes and fears of woodland owners for the future to incorporate them into the Charter for Trees, Woods and People 2017 – make sure you have your say!
Get free Grown in Britain recognition for your wood.
See the results of the RFS Excellence in Woodlands awards.