Oct

02

October 2015 Newsletter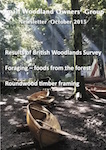 A glorious autumn is well under way, but once you're back inside, take a look at the latest newsletter.
Only 54 % of woodland owners and managers believe climate change will affect their woodlands – read more about the results of the 2015 British Woodland Resilience Survey, as well as a timely feature on foraging for food in the woods. There is also a link to video advice from the Forestry Commission about dealing with various tree diseases, and Rich's account of a roundwood timber framing course.