Sep

06

SWOG at Westonbirt
SWOG were kindly offered a share of the Woodlands.co.uk tent at the Westonbirt woodfair which took place over the bank holiday weekend.
It was a very enjoyable event, mixed weather but plenty of enthusiastic woodie type people around and quite a range of woodland craft work on show.   Westonbirt is a much smaller event than Bentley for instance and does not have the  large contingent of heavy forestry exhibitors that most bigger shows have, but these are not necessarily of such interest to the small woodland owner.
We had some local and not so local members show up.  Many thanks to Nigel and Elaine of Lapwing Wood in Somerset, who kindly  took to the stand to help out and were great ambassadors for woodland ownership.   Margaret, an owner from Kent had made a long journey but  fortunately has relatives close by the Arboretum so found a ready excuse to visit the woodfair, or was it an excuse to visit her relatives!
Local owner Mike came along to show us the  tree survey he has completed for  his woodland.  Using an excel spreadsheet divided into a grid, Mike worked out a colour coding  method of  representing all his trees, according to size and species.  Certainly a huge help when it comes to working out his management plan.
We had bargain SWOG fleeces on sale, these are offered at cost price of £12 plus a free T – shirt, very useful for the autumnal weather which seems to have arrived and two zip pockets to keep your conkers and sweet chestnuts in respectively!  We will have them again at the Bentley woodfair so make sure you pick one up there, or email me at rich@swog.org.uk  if you can't make it, I could send you one.
The show was well worth a visit if you didn't make it, add  a note in your diary for next year, but make sure you put enough time aside to see the arboretum.  The highlight for me was the Giant Redwoods, (actually described as 'Babies', in relation to their Californian cousins) and the 2000 year old lime coppice. This is a coppice stool grown to about 30 metres in diameter and believed to be around 2000 years old, Penny and I found ourselves sheltering under it in one of the sporadic downpours of the weekend.  I wonder how many other people would have done the same thing over the lifetime of the stool?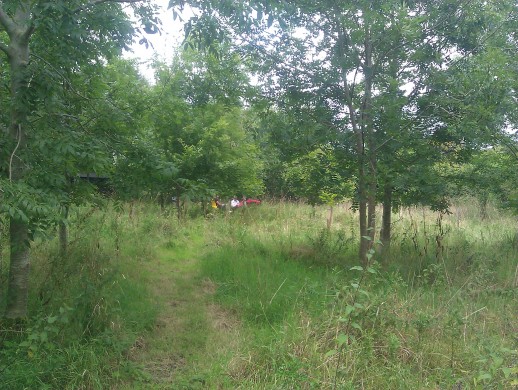 Finally after the show Nigel and Elaine kindly hosted us at Lapwing wood, their beautiful young mixed broad-leaf woodland (planted about 20years ago).  We spent a very nice afternoon enjoying a bbq and looking around  their woodland and also their neighbour Mike's wood.  We even got a bit of an impromptu  scything lesson from Mike.  These are a very efficient cutting implements for keeping down the grass and herb layer in young woodlands, glades and rides.  I believe 'Living Woods' magazine reported on a bit of a showdown at a woodfair between a scythe expertly used and a 2 stroke petrol engine brush cutter with the scythe winning the contest.  Not only that, but they are of course much, much, MUCH quieter, and eco friendly to boot.  I'm also told it is a relaxing almost meditative activity once mastered.  If anyone is interested, email me and we'll see if we can get enough numbers to organise a more formal workshop.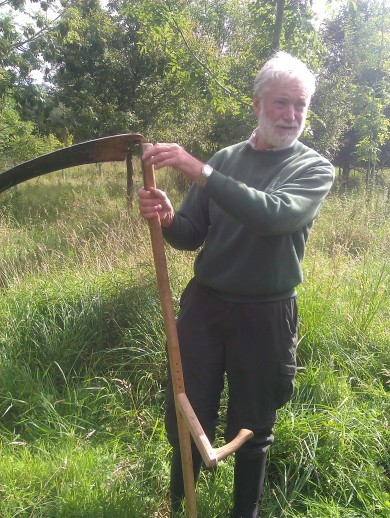 So enjoy the rest of the show season,  there's still a few to go so don't miss out, check out  the Woodfairs website.
________________
Richard Hare
SWOG website editor